June 16th
June 15th
Today we had excellent dolphin fishing! We limited out by 7:30 and went looking for something big! About mid morning we had 2 run ins with blue marlins, both solid fish and couldn't keep the hooks in either. Thanks to James and crew for sticking it out! We hope to see y'all again and can't wait to do some hunting this winter! Call 252-996-0002 to book a day!
June 12th
The least we could say about today was fishing was absolutely incredible! We quickly caught our limit of dolphin again and they were much better in size! By around 10 we went looking and at 11 we hooked a double header blue marlin, landing both!! Both fish were around 300 pounds. Thanks to Bill and crew, we hope to see y'all again! We're booked up this week but are open all of next!
June 10th
June 9th
Today we had excellent fishing! The dolphins finally made a showing for the first time in a while! We set out on top of them and caught just shy of a limit so we could have some fun with them later in the day along with a wahoo! we looked for a marlin for the better part of the day but had no luck from them, we came back inshore for the last little while and finished our limit. Thanks Josh and the crew for an awesome day and for being a top notch crew!
Tournament post!!
June 3rd
The trolling bite was slow so we resorted to the bottom, the amber jacks seemed to be plentiful! Hopefully they'll stick around for the summer! Thanks Pat and crew for today and can't wait to see you all next year!
May 27th
Today we fished with Dave and his crew, we were searching for a marlin! We found a change mid morning in the see and quickly caught 14 gaffers, and began looking again. We didn't find what we were looking for but we had some excellent table fare to show for the day!
May 21st
Fishing today did NOT disappoint! We were in search for more quality, then quantity, we caught a few gaffers and then hooked a nice blue marlin in shallow, we ended up catching her and started looking again, by 10 o'clock we had 2 blue marlin releases, we raised one more fish but couldn't hook her. Around 12 we hooked what we thought was a blue marlin but ended up being a 500 pound short fin mako. We gaffed him twice but luck wasn't going our way and both flyers pulled out. Hopefully we'll have better luck next time, thanks carl and crew, were now up to 5 blue marlins in 3 days!!
May 20th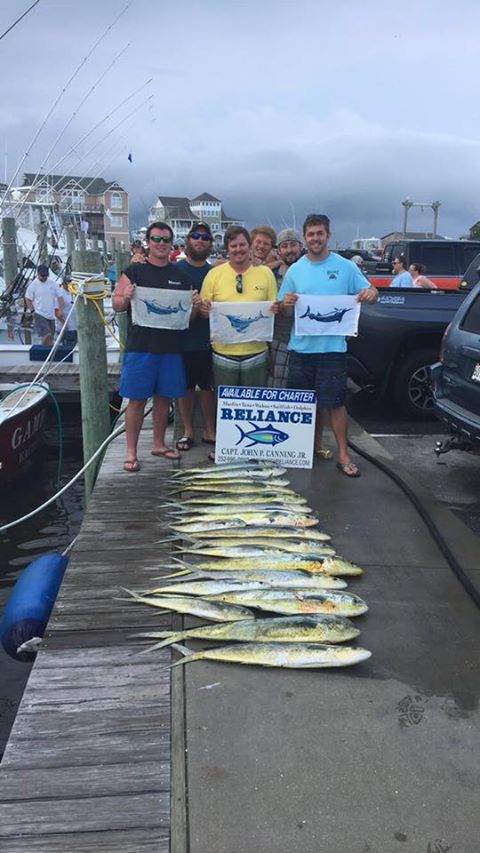 May 19th
Today we had decent fishing, catching quite a few gaffer dolphins and a nice 500 pound blue marlin! Thanks Mitchell and crew for an awesome day! We have plenty of days open and are looking to fill them! Don't forget about our military (Active and retired), firefighter and law enforcement discount!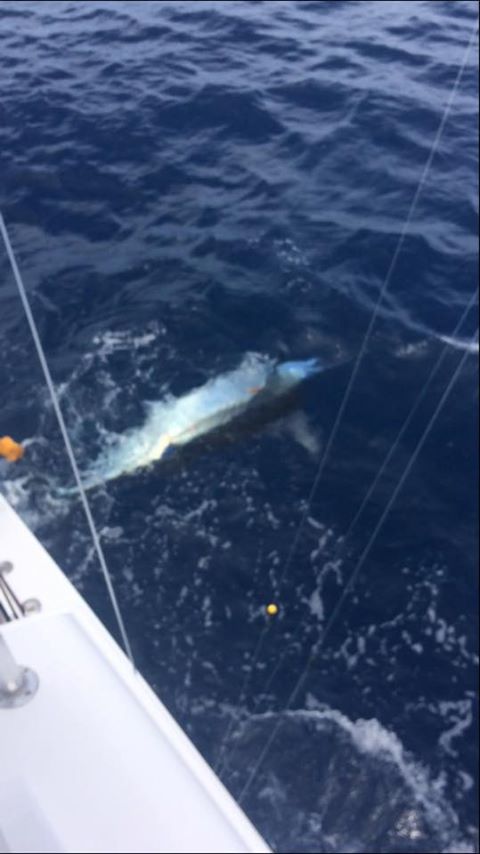 May 17th
With the scrappy fishing from the last two days, today made up for it!! We caught 40 gaffer dolphin witch made for an action packed day!!
May 11th
Good gaffer fishing, couple wahoos some blackfins and good few minutes in the deep grouper fishing!
May 4th
 slow fishing for the most part but managed to scrap out a decent catch with some wahoos some dolphins and a few tunas.April 29th
September 24th
Quality over quantity! We had a quite a bit of mixed action today! High speed wahoos, yellow fins up to 61 pounds!!! (One of the biggest caught out of Hatteras harbor this year) and sailfish eating tuna gear! We ended with an awesome day! Thanks Jason and crew and we hope to see y'all again!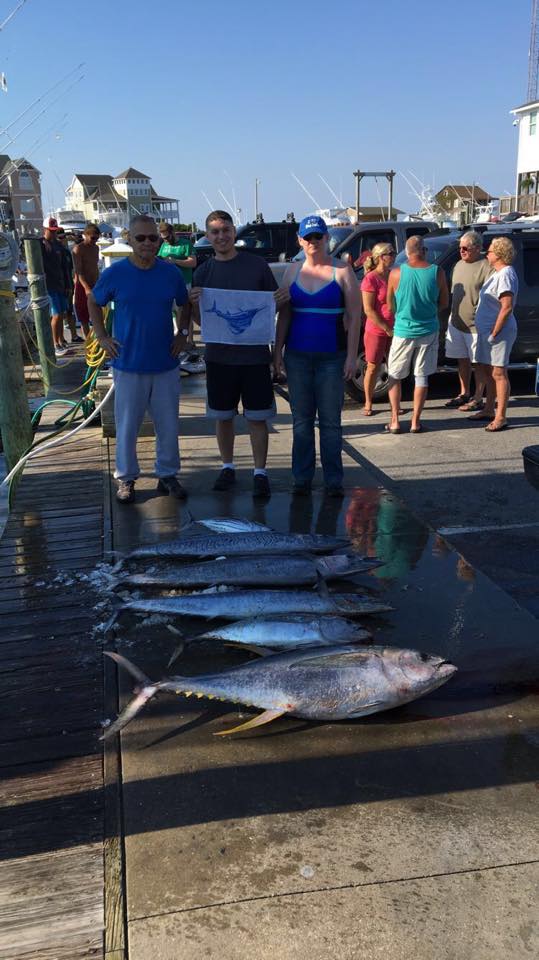 September 23rd
The south did produce! We had schools of bailer Dolphin up to 300 per school multiple times today! Lots of sails around also, we made one Lap to the tunas, we got hit one Time and caught 3 yellow fins, 2 black fins and 2 skip jacks out of a 7 banger hook up!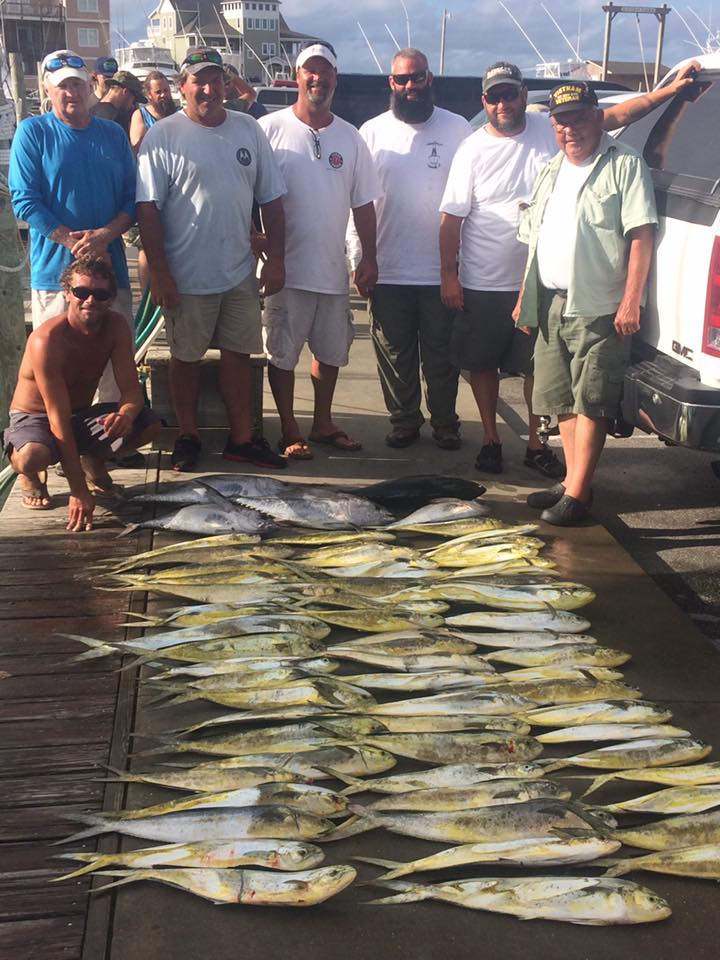 September 22nd
We made a turn to the north today, and man we should of went south! We scrapped a nice little catch of black fin's to the north but boats down the way had incredible catches of bailer Dolphins, a few wahoos, and catches of yellowfin tunas! We are looking for a group for Sunday, hurry and get it while it lasts! Fall fishing is the BEST time of the year!!!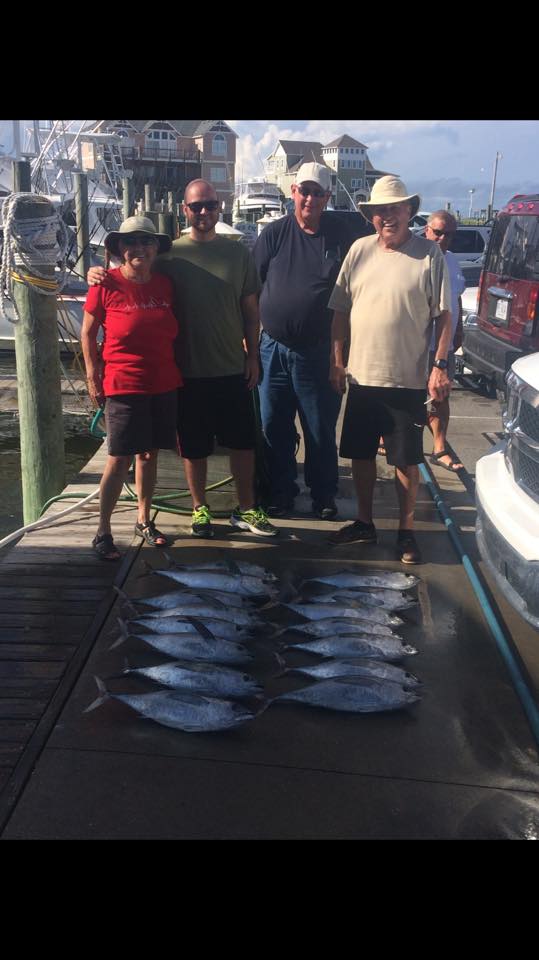 September 12th
Great tuna fishing yesterday!
September 11th
Excellent wahoo fishing, again!! We ha consistent action all day! We ended with 10, biggest being 54.5 pounds!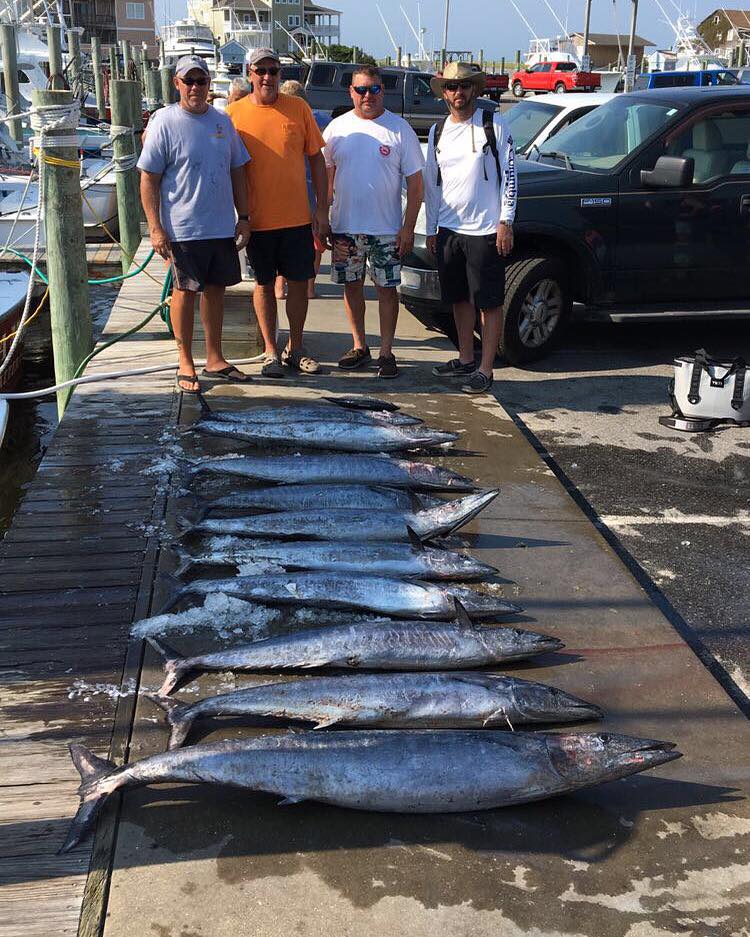 September 10th
What started out very slow, the afternoon changed everything! At 1 o'clock, we were holding 2 fish. We found one school of bait and caught 7 more within 1.5 hours! Biggest being 55 pounds! Thanks guys for an incredible day and can't wait for May to see y'all again!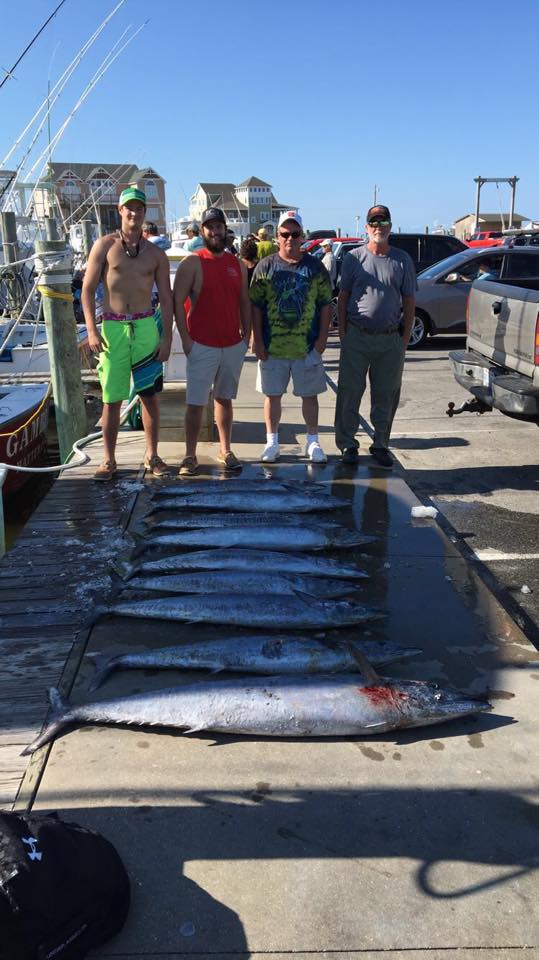 September 9th
Great wahoo fishing today! Some boats had up to 16! Fishing is good, get down here and let's go!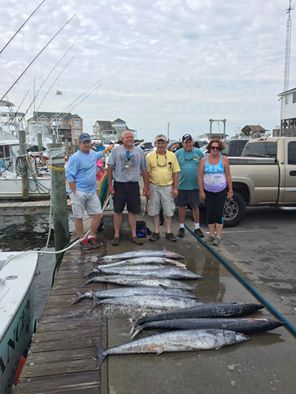 September 7th
Being our first day back from the storm offshore, we had good wahoo fishing! We caught 6 for 9 in the poor, ruff conditions we had! Open Friday and back at it Saturday!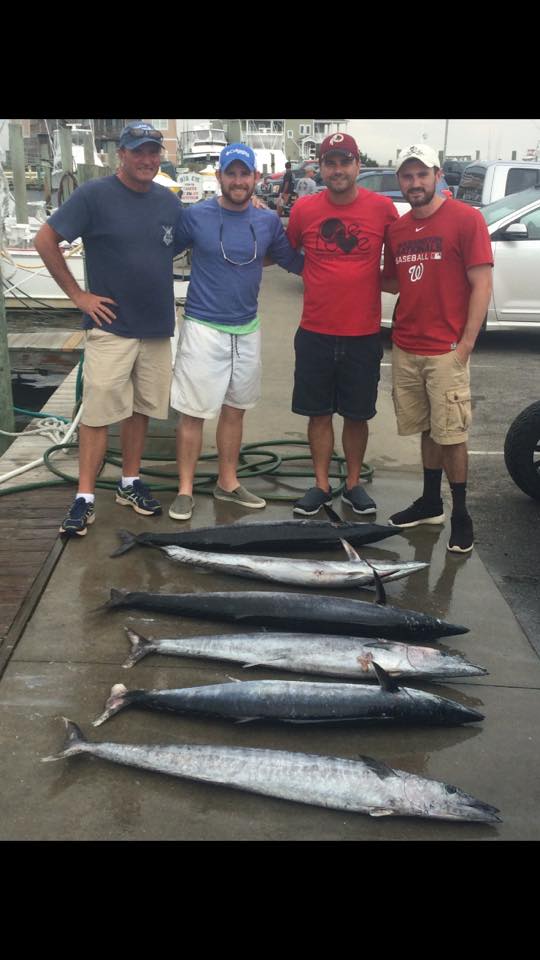 August 23rd
Excellent half day fishing! We caught a 6 man limit of blue fish and a few Spanish! We have plenty of days open and the fishing is HOT! Our crew took home plenty for dinner, and donated the rest to Hatteras island meals on wheels! Thanks Tommy and crew for a great day!August 19th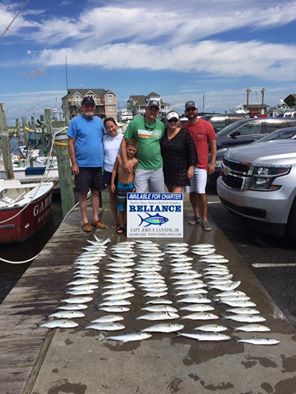 August 19th
We had an awesome half day this afternoon! We started it out For the first 30 minutes catching Spanish mackerel and bluefish! And they were plentiful! After about 40 in the box we headed offshore to look for jacks, they didn't cooperate as we had hoped. We began trolling for kings and had two bites, one being an albacore, the other being a big red drum! We put our spinning rods out, and luck had it, we caught 9! Biggest being 57 inches!!
August 13th
August wahoo fishing is here! And they are snapping!! Thanks crew for a good day on the water, unfortunately we couldn't hold onto as many bites as we had hoped for!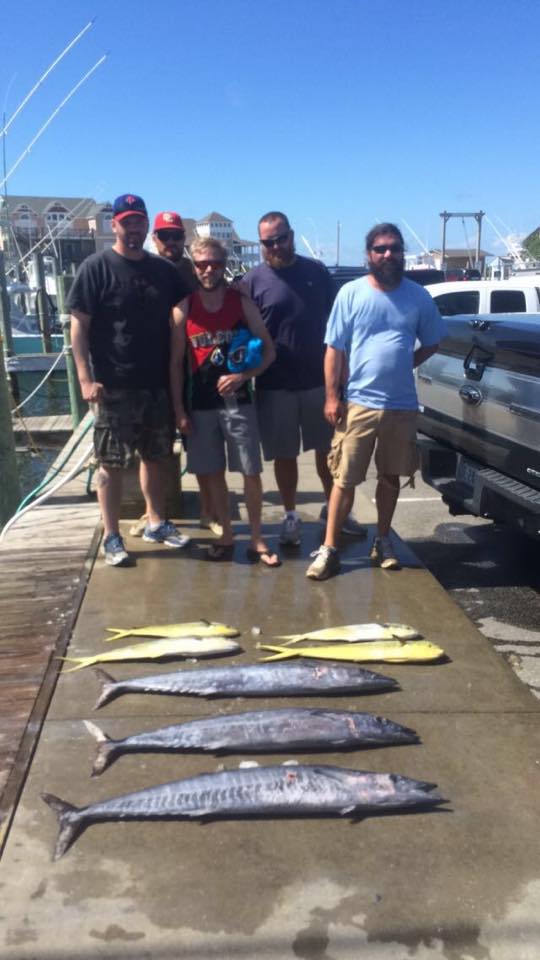 August 12th
Fishing was tough, but we did manage a catch! Thanks to the Wescoat family for an awesome day!August 11th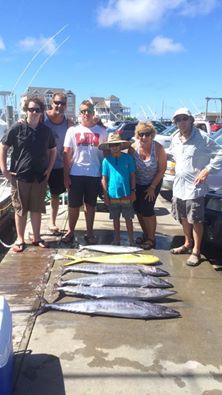 August 11th
Finding a float early, we caught 40 Bailer dolphins fairly quick, and picking a wahoo up a little later!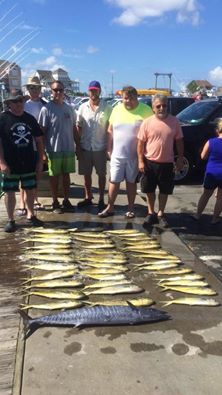 August 10th
Day two with our crew, we had an awesome day again! With almost 30 black fins, and yellowfin, some sea bass, and to top it off! A 41 pound snowy grouper! Thanks guys and hope y'all enjoy all the meat from these two days.
August 8th
Forgetting a picture today, we had good offshore fishing catching a few dolphin, a few bottom fish, and 4 wahoos to top off the day!!
August 4
Great day offshore! We caught 5 wahoos, a few tiles and our grouper. And to top the day off, we caught a sailfish! Great day on the water, thanks John and crew.
August 3rd
Leaving the dock early in hopes of tuna paid off! We caught 12 black fins and a yellow fin! We searched in the shallows for a wahoo the rest of the day, but no luck from them, and then broke off a sail fish. Thanks Chris and crew for a good day!
July 28th
Blue Marlins on day to meat the next! We had an awesome time catching tunas this morning. And not to mention the top boat in the fleet with 390 pounds!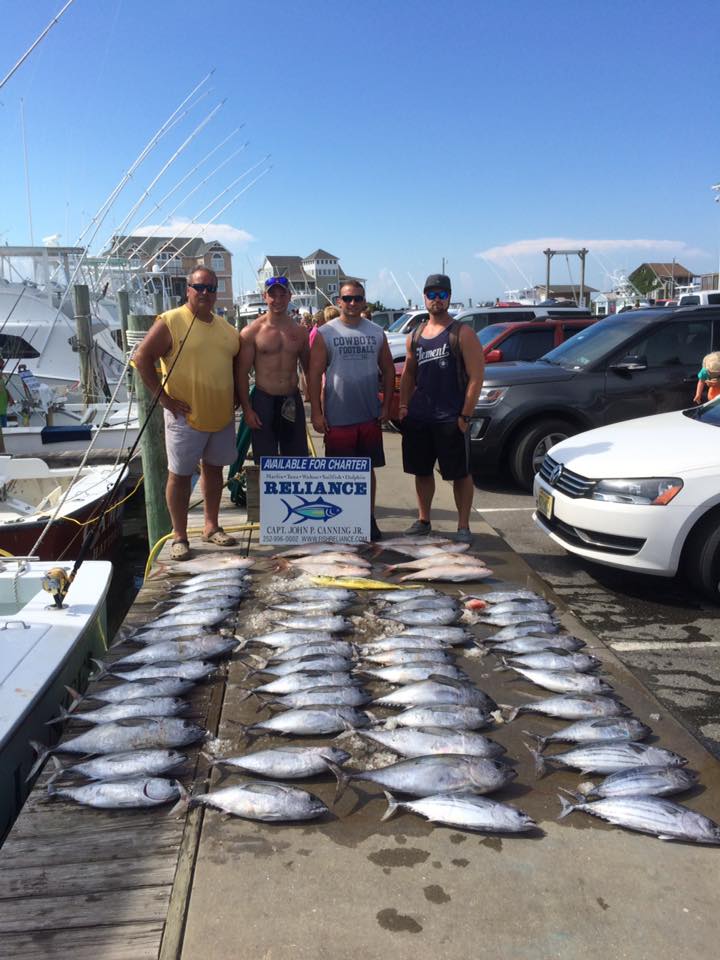 July 27th
We had an awesome day on the Reliance! Sean said he wanted a Blue marlin after we caught a little bit of meat for his kids, we quickly caught 2 black fins and went deep, only to fish for 25 minutes and hook a 350 pound blue marlin, and catch it in under 20 minutes! We quickly set out baits back out and within 20 minutes we hooked a 250 pound, mean blue marlin! He put on an incredible show for every one, only to settle down and come to the boat! After catching those 2 we trolled all day and at 2 o'clock we hooked a very nice fish for one good run and he jumped off. Thanks Sean, we hope you enjoyed your day as much as we did!!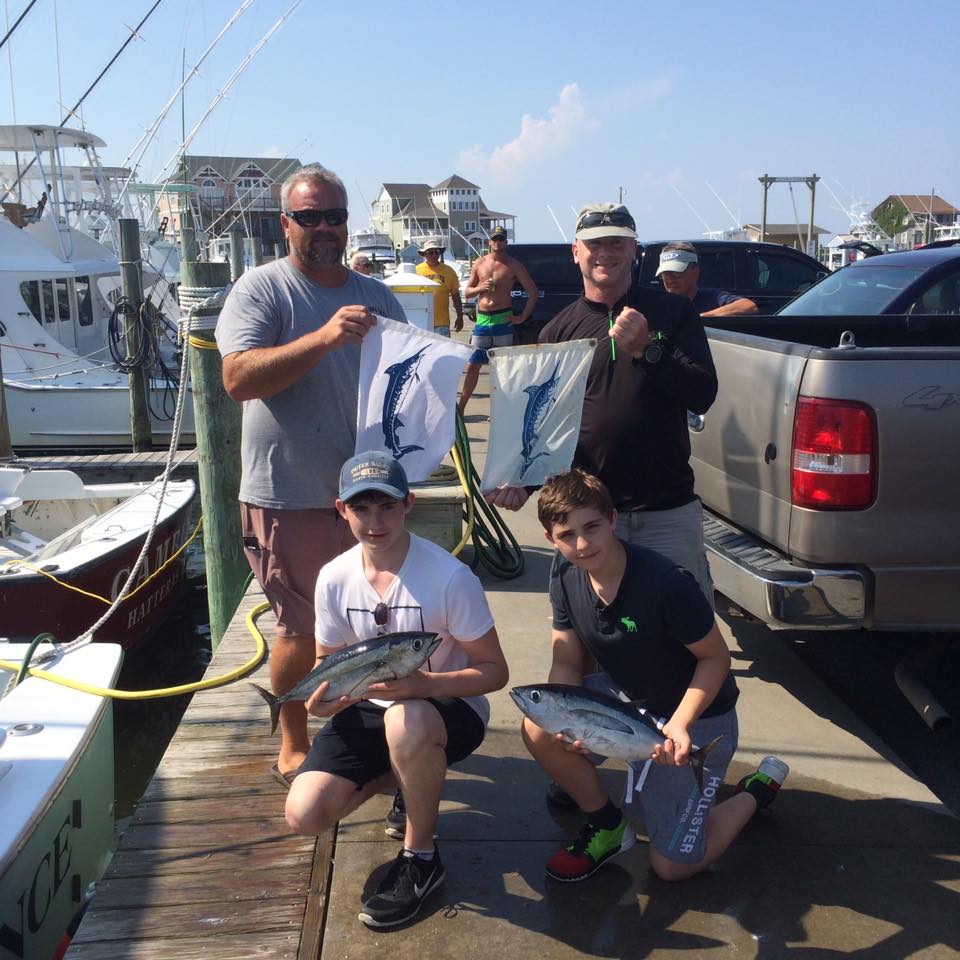 July 23rd
Awesome day of bottom dropping and a little bit of trolling, we quickly set out, and with in the first 20 minutes we had a wahoo, 2 bailers and 2 nice gaffers in the box!! We then set out to go bottom fishing, we spent a while catching our tiles, and our grouper, with a few rose fish. We then turned to the North and hopefully finding a golden tile, we took our chances. On the first drop we caught 3! The first three ever caught aboard the Reliance! Biggest being 41 pounds!!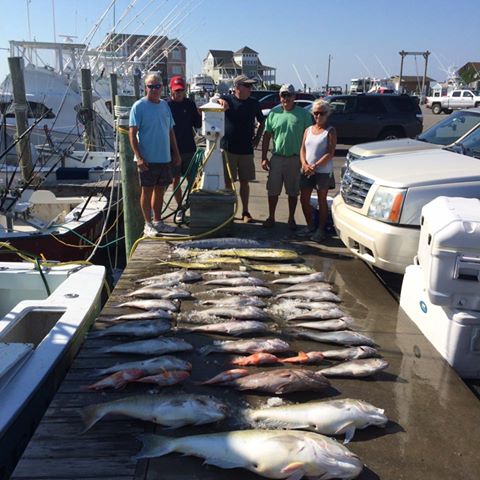 July 18th
After running 20 miles south for our fun trip today, we quickly caught 2 wahoos! Fishing, was okay for the boats dolphin fishing, but we only wanted wahoos! We finished with three, including a 41 pound citation!!
July 16th
Nice fun trip today and home by 12! Wahoos did not bite as good as they did in the past previous days but will turn on again any day! Plenty of days open this week, and fishing is getting good! Call Capt John to book YOUR day at 252-996-0002!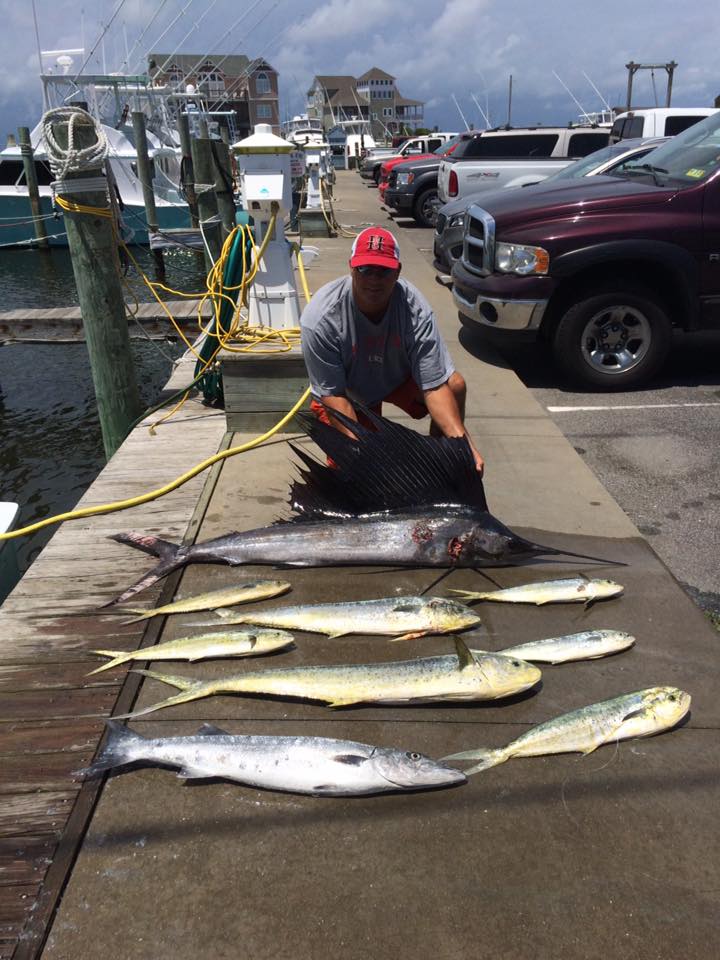 July 12th
With slick slam conditions, we made the most of our day! We did just about everything we could, only trolling for a little bit, we missed a sailfish and caught a wahoo! And along with the wahoo we had some nice jacks, and some bottom fish! Thanks Ben, Micah, Susan and Elizabeth for an awesome day!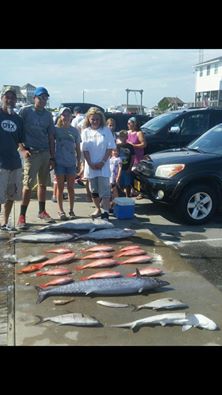 July 7th Afternoon
Excellent trolling on our half day this afternoon! Our anglers did an awesome job, and were on top of everything! And to top it off, we sent them back to Colorado with lots of meat! Hope to see y'all again, thanks guys.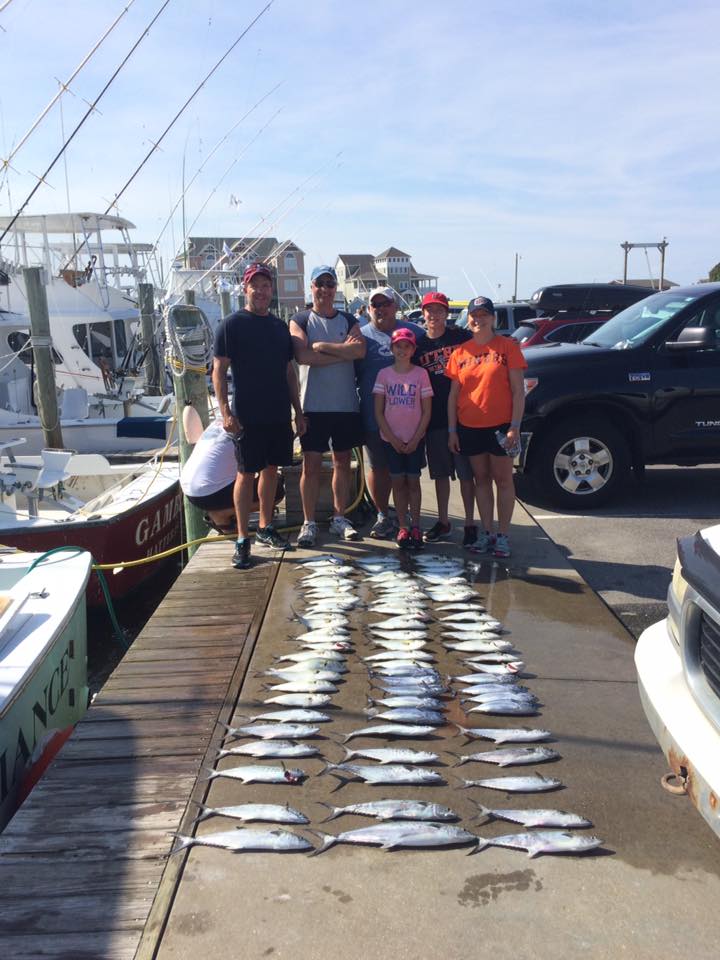 July 4th
Blue marlin fished all day, caught a 100 pound fish!
June 29th afternoon
We loaded up the live well, and went to the wrecks, we caught 8 nice jacks and came back inshore to scrap out a few Spanish. Great crew and a great catch.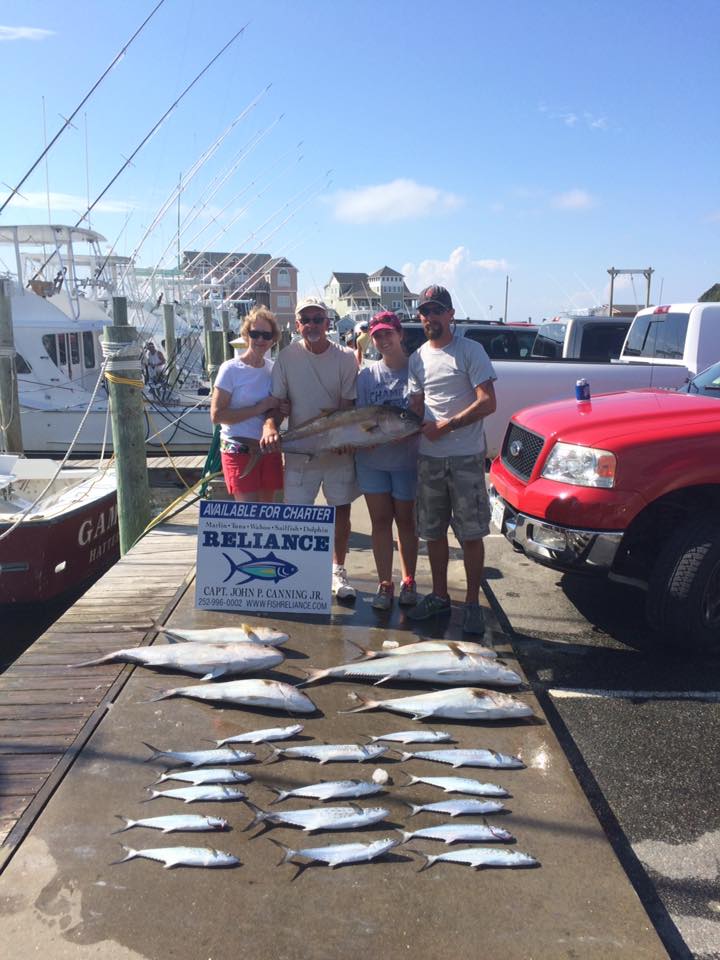 June 29th morning
Morning half day! Excellent Spanish mackerel fishing! Non stop action for a few hours and then went and caught a couple sharks! Thanks guys for a good morning of fishing and hope to see y'all again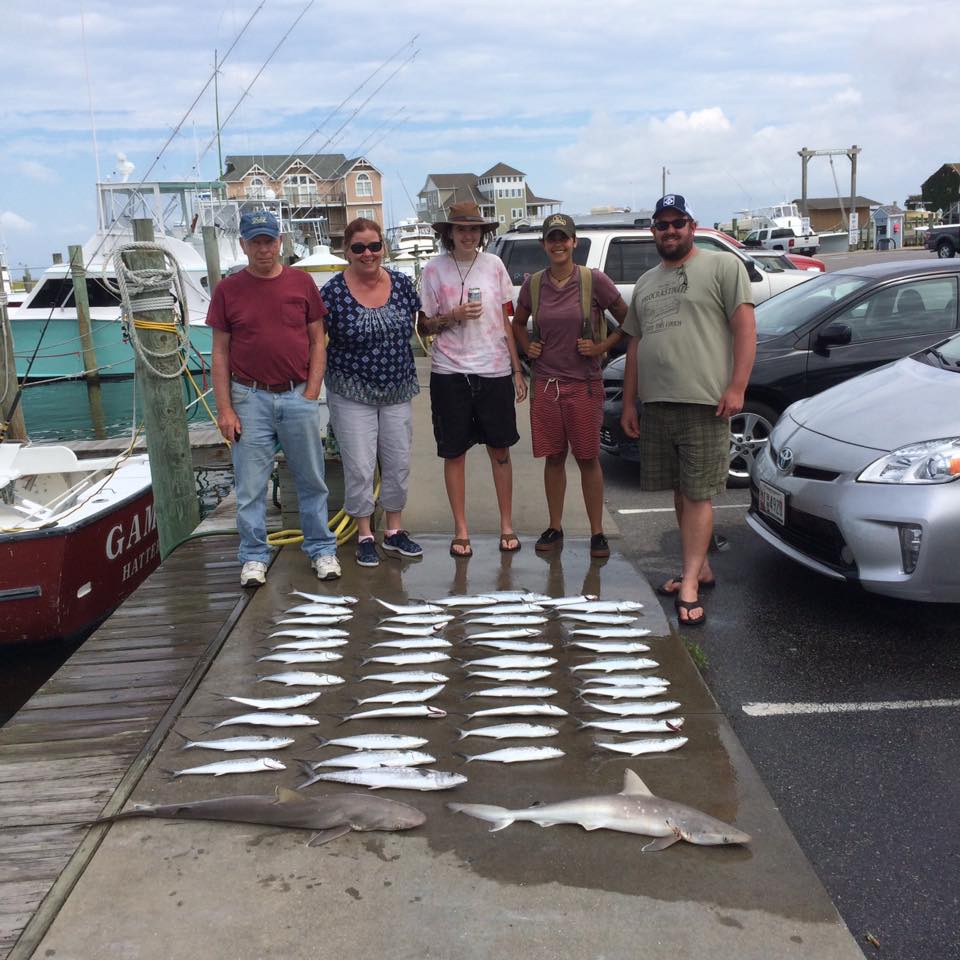 June 27th
Fishing in the tournament fleet today, we scrapped out a good catch! Not to mention our prettiest day all year! Thanks Ricky, Colin, and Missy for a a great day on the water!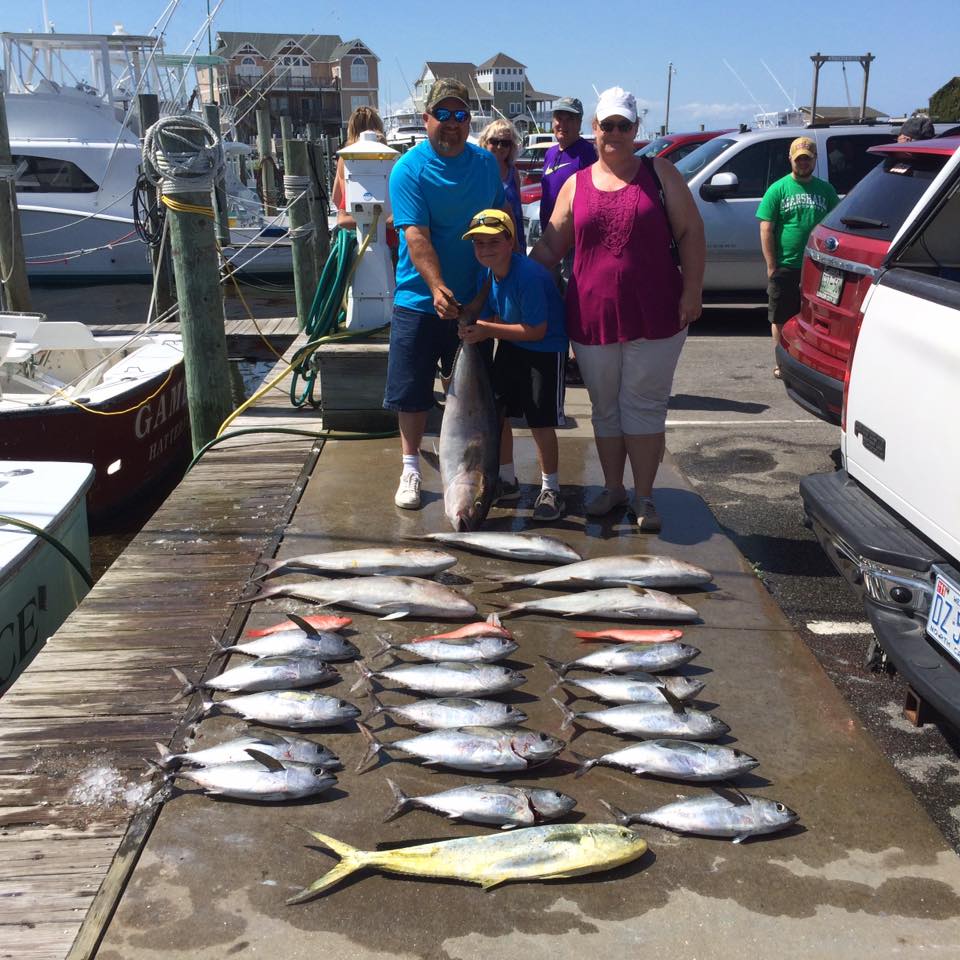 June 25th
Great day! With a dozen black fins, 18 dolphin, and a couple amberjacks! We had an awesome, action packed day, thanks guys and look forward to seeing y'all again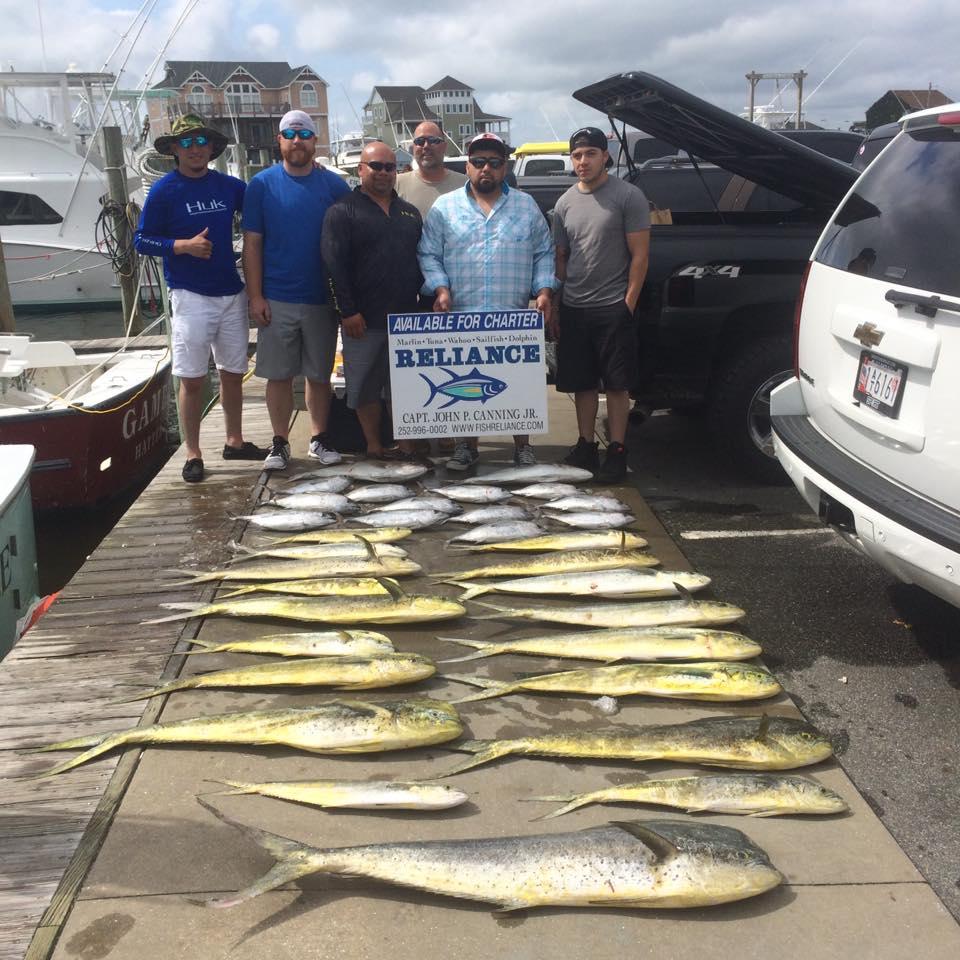 June 20th
Slick calm day in the Gulf Stream! Exceptional dolphin fishing and good jigging for jacks! Thanks to our groups for an awesome make up, and can't wait to see every one of y'all again!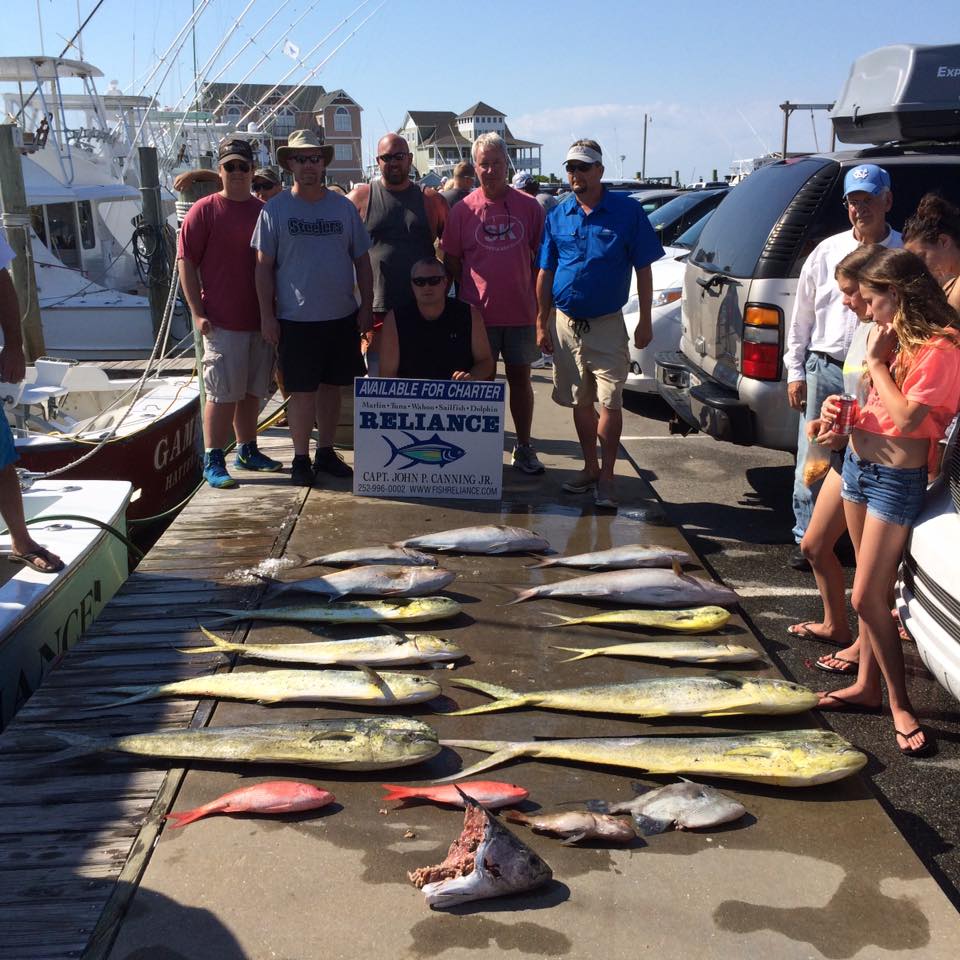 June 14th
What a day! With calm seas, and a steady bite this morning we made the most out of it! And even snagged this sailfish for dinner!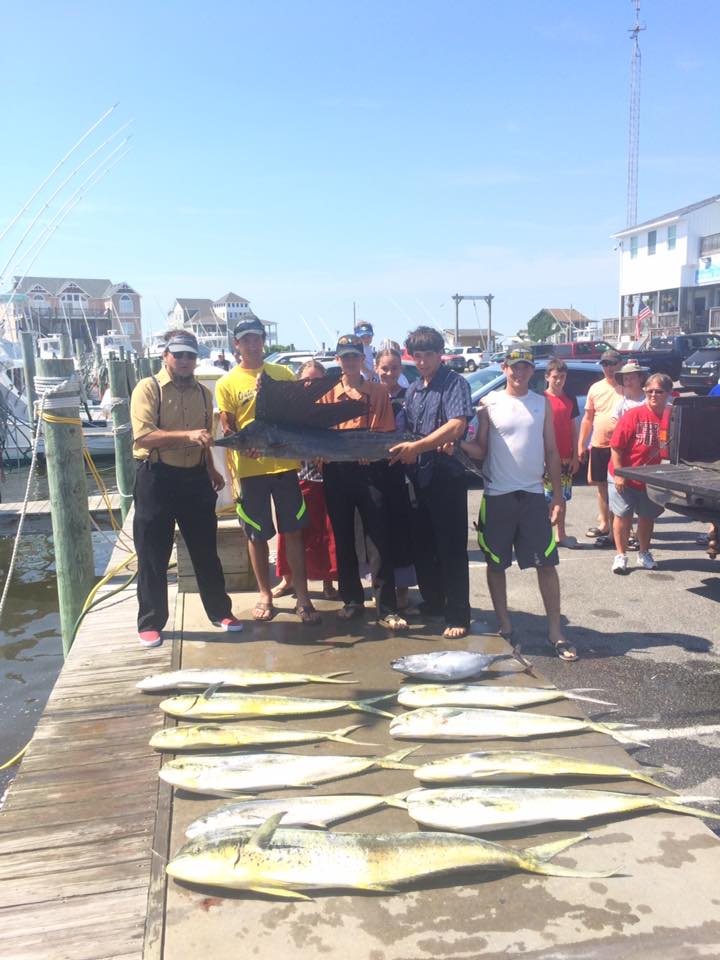 June 11th
What a day, with slick calm conditions this morning, to dipping riggers this afternoon, we had overall a good day of fishing! Thanks guys for a great day!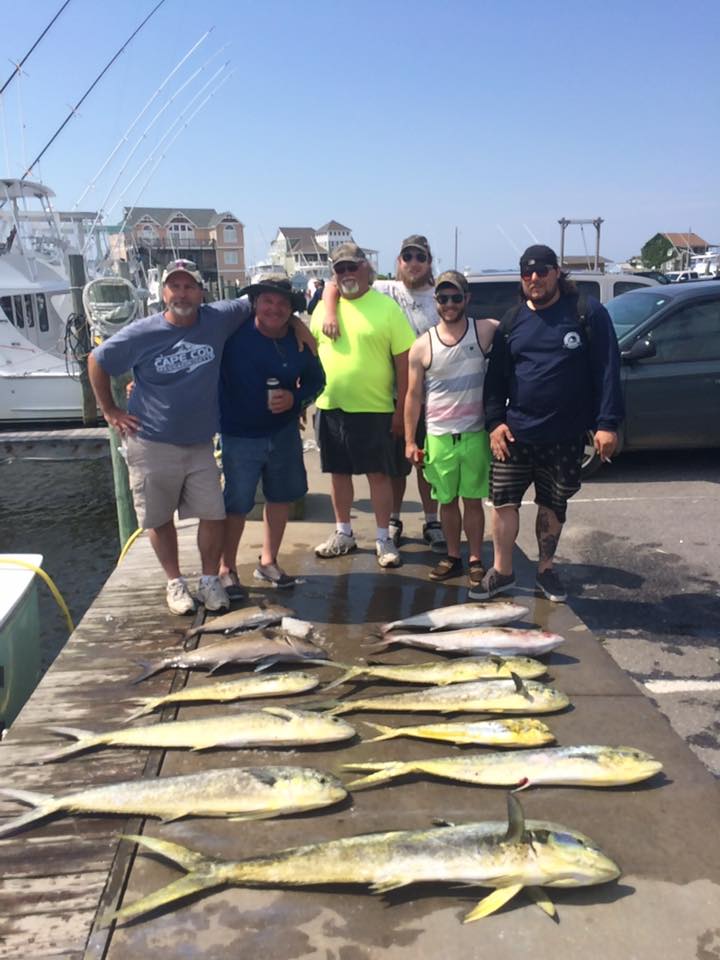 June 10th
Despite going 50 miles south and the wind picking up tremendously. For a long ride home, we had good fishing and tied up at the dock by 3!
June 9th
With long time customers, and friends jimmy and Addie on the boat. We had an awesome day of fishing! With setting out and not having. White for an hour, we quickly then caught 7 large gaffer dolphin. And started to bottom fishing, and man were the vermillion snappers there! We caught our limit quick and tried for some triggers and had a few before we started to troll our way home to catch one more dolphin! Hope tomorrow puts out the same catch for these guys!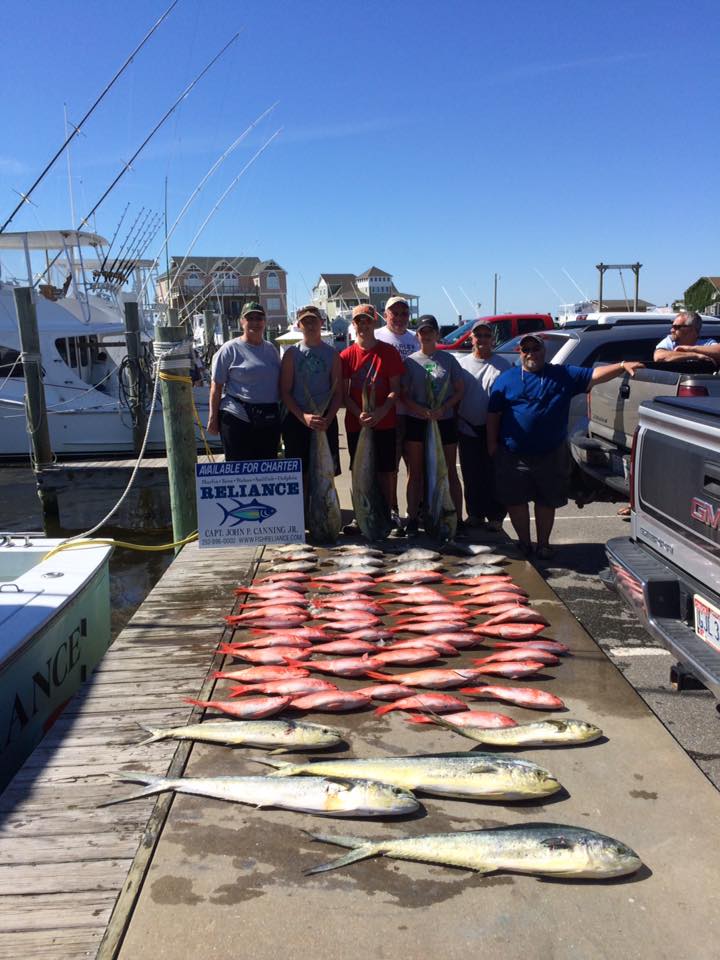 June 4th
Slick calm day on the water today, with a steady bite all day, we managed 11 nice dolphin, and to cap the day, we finished with a 46 pound wahoo for a citation!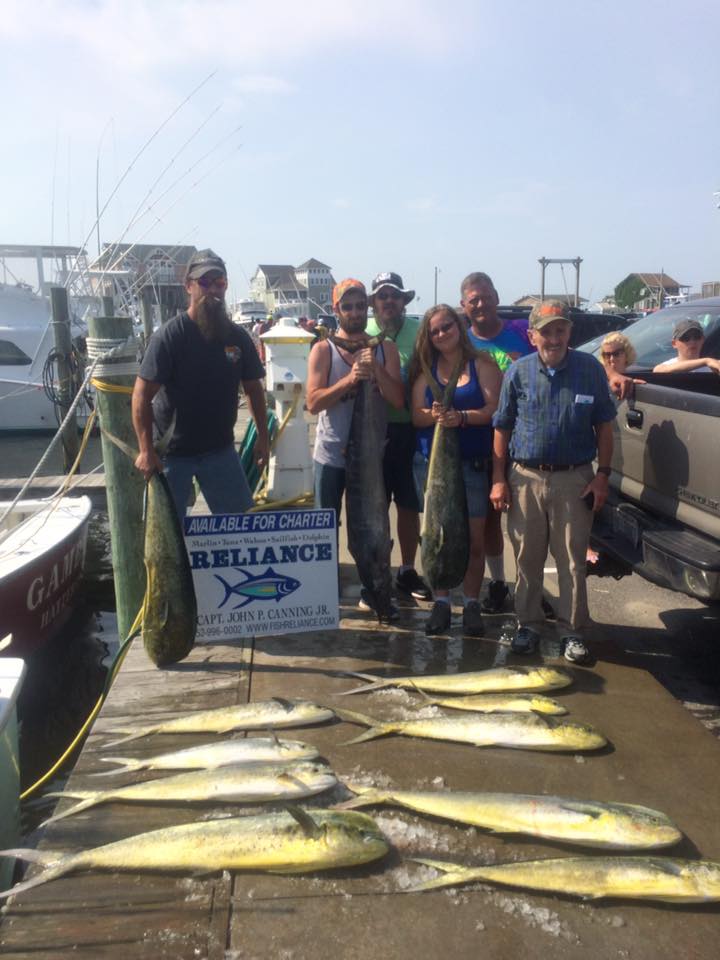 June 3rd
Awesome day for the Gammer family, with most boats having little to show for, and an average of 100 pounds per boat, our 270 sure was nice! Thanks guys for an awesome day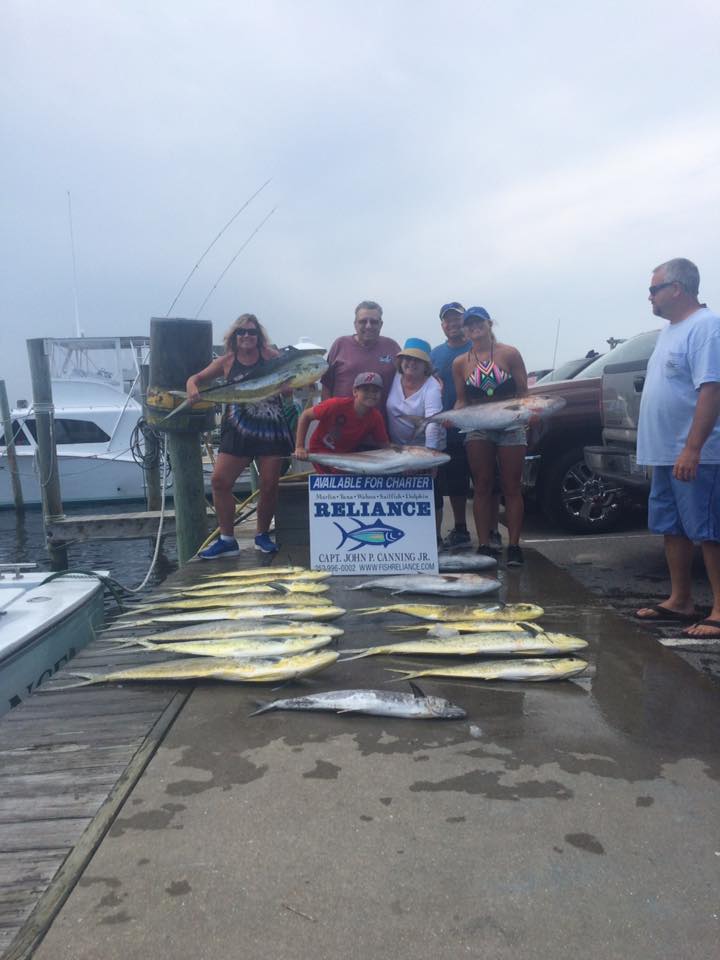 June 1st
Slow day of fishing today on the Reliance, but still managed a catch, no trip tomorrow but back at it on Friday! Thanks Michael and crew for today and hope to see y'all again!
May 31st
With a slow start, and many boats coming home early because of a slow day of fishing, we had an awesome day in the Ocean. With a nice wahoo and 19 big gaffer dolphin, including one 42 pound citation! we had 380 pound of straight meat on our make up! Thanks to our two groups for a great day!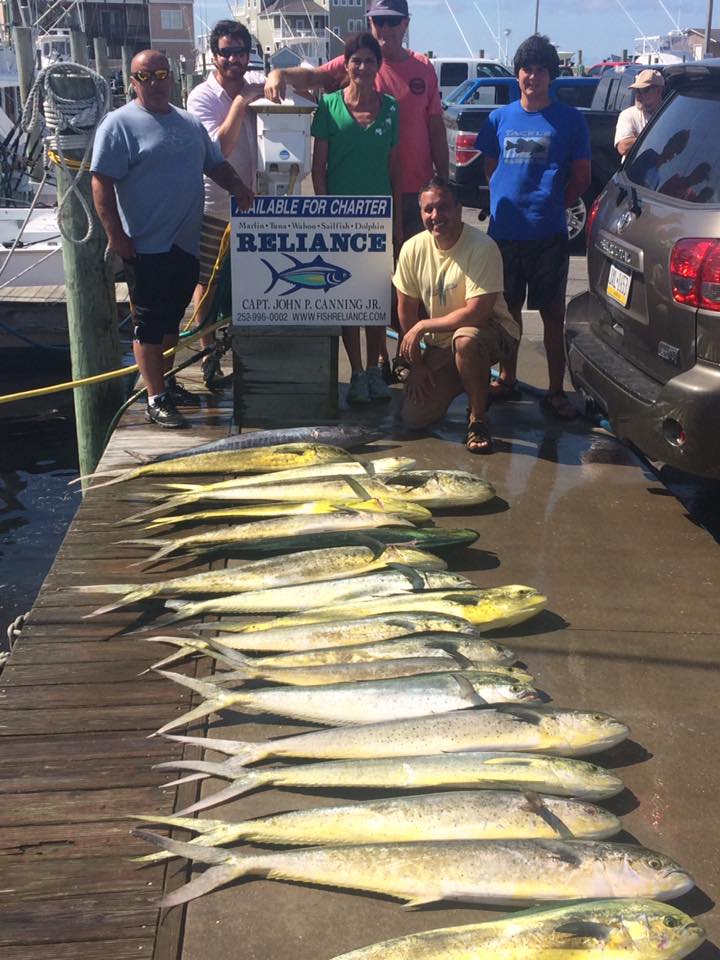 May 29th
Choppy half day of Spanish Mackerel fishing a long the beach, fished for a few hours in rough sea conditions, caught a handful an dheaded home, thanks Scott for a good few hours, and hope to see yall again!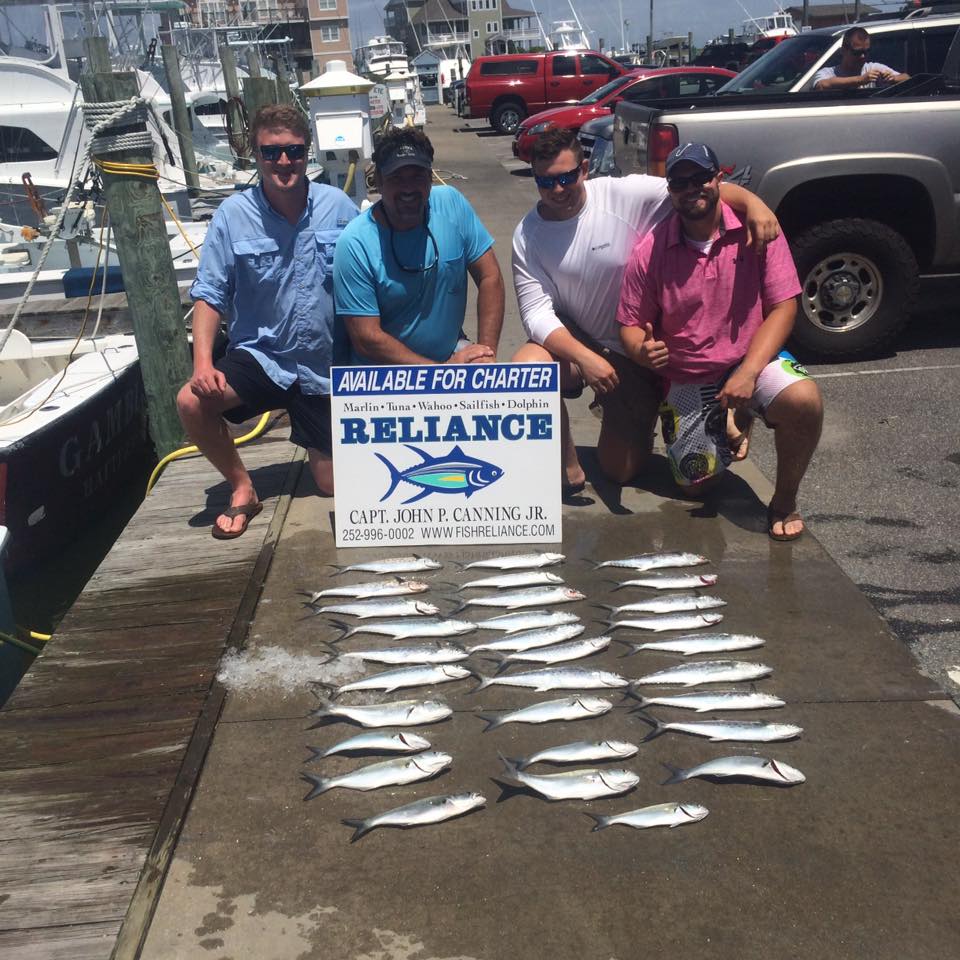 May 25th
Awesome day of fishing on the Reliance, we had one angler on the boat, who wanted a little bit of meat and to fulfill his life dream of catching a blue marlin! We set out on the break this morning and quickly caught 10 dolphin, we headed off shore and by almost 10 o'clock we hooked a monster blue marlin!! We fought him for nearly an hour, and tagged the leader on this estimated 600-650 pound blue marlin! Also our mate Johns, first ever! Thanks Mark for an awesome day!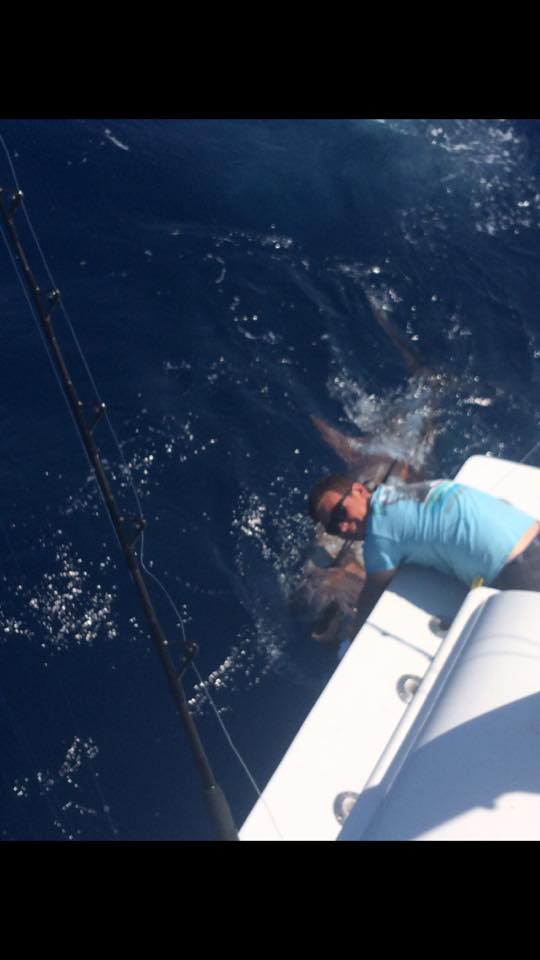 May 23rd
Catch a sailfish and missed a Blue marlin! Not to mention our box full of Tunas and Dolphins! including this 40 pound stud!!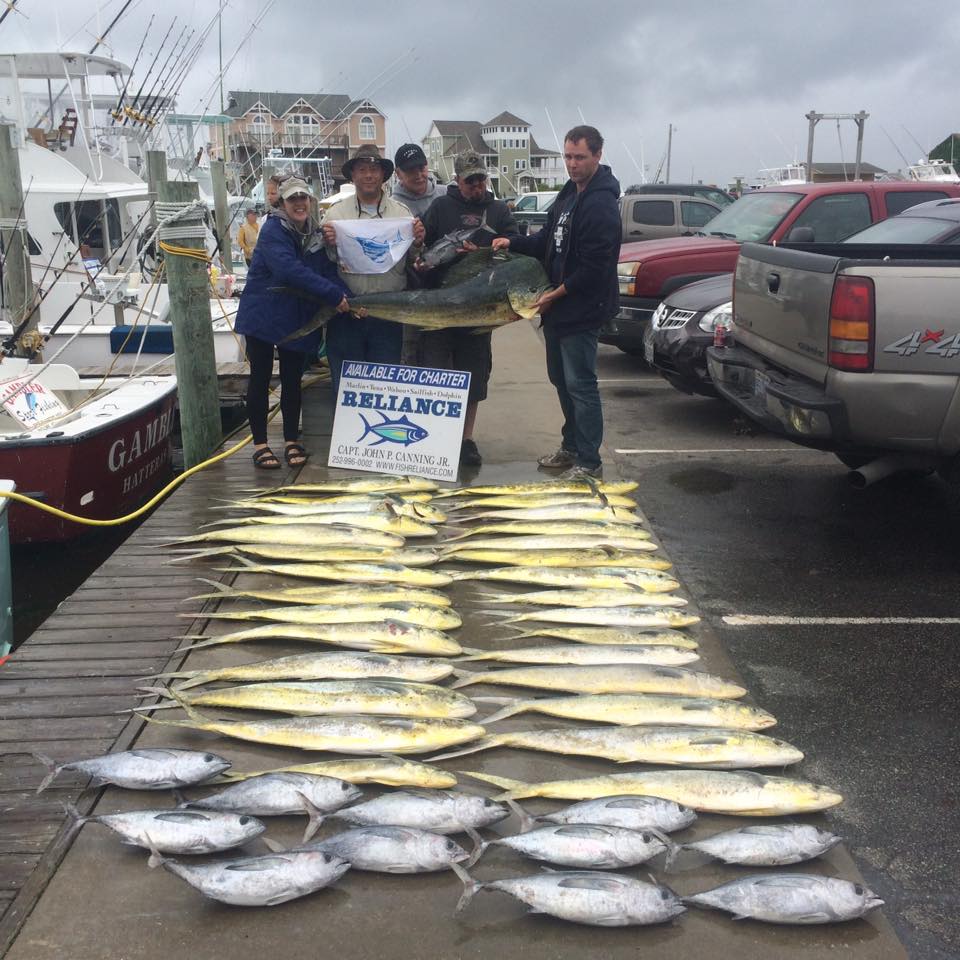 May 22nd
Incredible day of fishing, tied up at the dock by 315 with a full box, and 630 pounds! Looking for 3 to fill in a make-up trip on Memorial day Monday. $260 a person!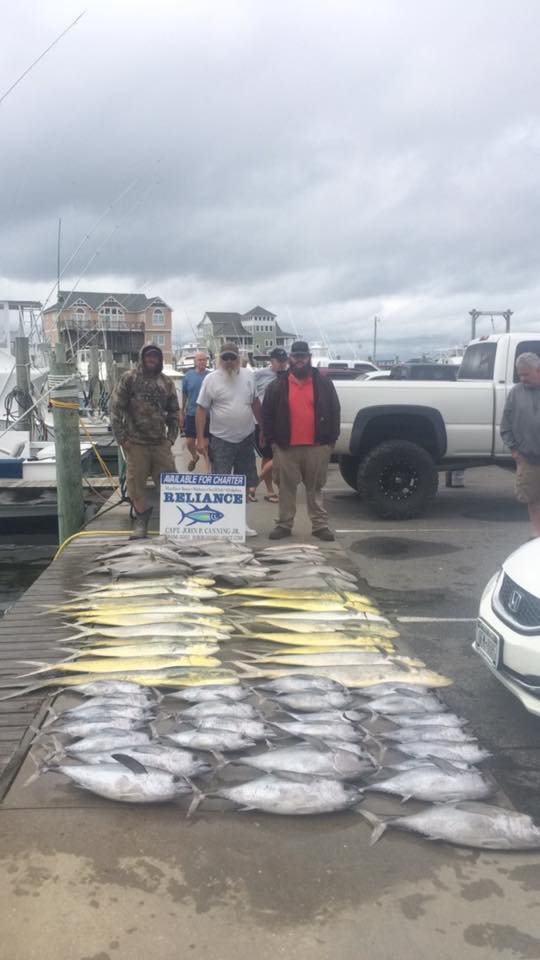 May 20th
Action packed day with non stop action! consistent black fins all morning, with good jigging and Mahi all afternoon!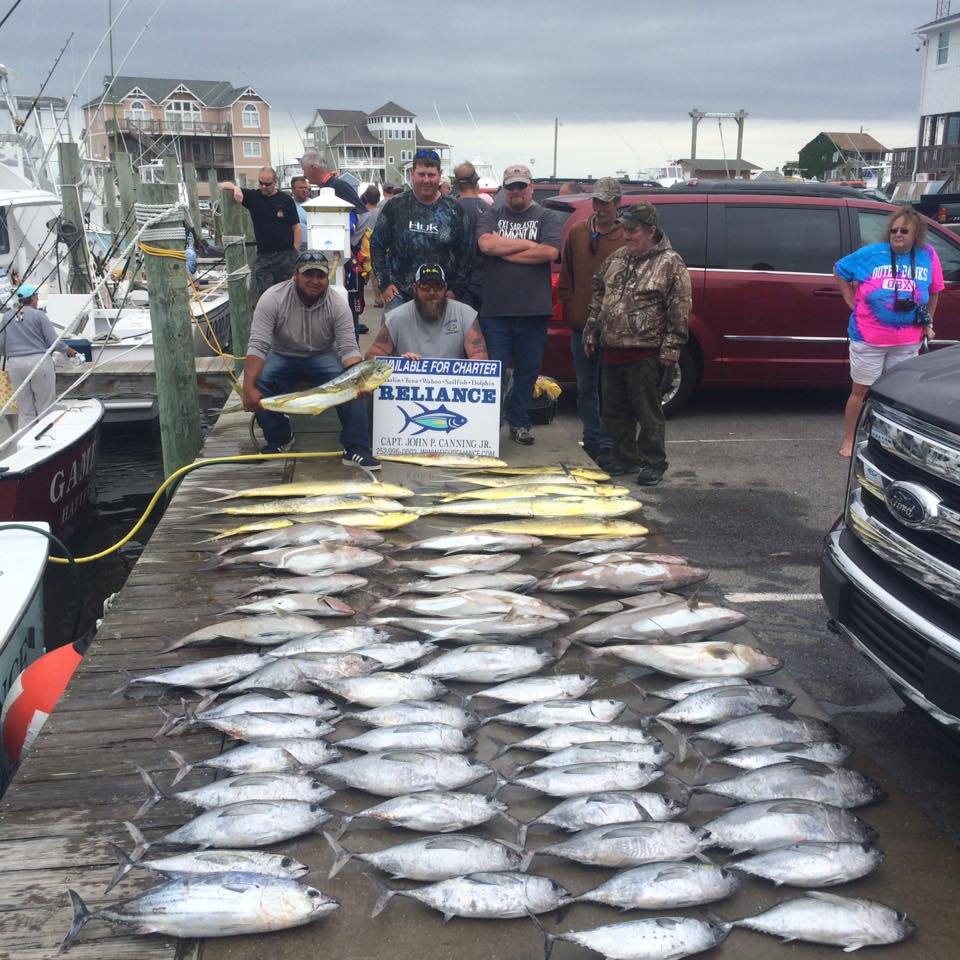 May 17th
Great day of Maytime fishing with non stop action all day! Thanks Gary and crew for two days of great fishing!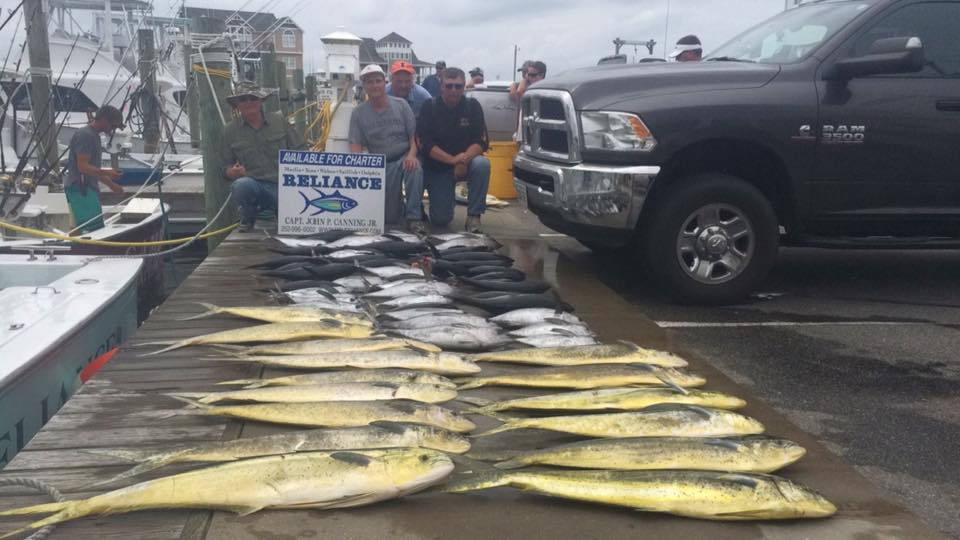 May 16th
Spring time weather as it should be! Slick calm conditions, with good fishing, with a wahoo to start the day, and finding a float to catch 11 of our first dolphin. We continued to troll and hooked up yet another wahoo, a few more gaffer dolphin, and then we got covered up by the sailfish!! A truly incredible bite, while hooking a single on the long rigger, we began to crank everything up to fight our fish, with the planer rod bait 10 feet behind the boat 3 sailfish chased it to the back of the boat, at this time losing our fish on the long rigger we pitched a spinning rod to the 3 behind the boat and were fortunate enough to hook one! Awesome way to end it, back at it tomorrow!!
May 14th
Incredible day of fishing, started out quick finding a free floating buoy. With a gaffer to start out the day, we continued to troll South. After a consistent dolphin bite, we began to scrap out a few wahoos around the wrecks, followed by our first billfish of the year! a Sailfish! Our crew had all the meat they wanted at around 12:00, so we began to troll further offshore in search of a blue marlin. with no love from the marlins we found a few more big gaffers and started to head in. Thanks guys for an awesome day!
May 8th
Incredible day of Gaffer dolphin fishing, with a solid 41 fish to join the ride home with us!