Captain John Canning, Jr.
The Reliance is operated by Captain John P. Canning, Jr. who has been a USCG Captain since 1990 and has fished from South America to the Grand Banks. He settled in Hatteras in 1994 and has operated the Reliance since 1998.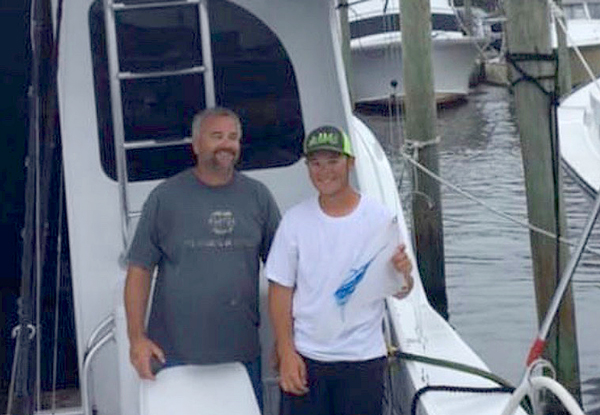 Captain John Canning, Jr.
Growing up on the water of Barnegat Light, NJ, John fished there in the local waters with his father for several years. But then, in the winter months of 1993, he took the plunge and moved to Hatteras, NC. Winters can be hard in Hatteras, but he stuck it out and over the years, Hatteras became his home.
John was nicknamed "Jersey" by a local captain, and the nickname stuck. John worked hard and learned the ways and waters, and by 1997 he bought his first boat – Jerseys' Pride. And then, a few years later, he went a little bigger and purchased the first Reliance.
Business and fishing went well, but in 2001 he chose to pursue another dream – he had plans drawn up for a brand new 52′ Reliance. He worked alongside Bubby Crown of Crown Marine in Deltaville, VA. It was hard work, long hours, and a lot of time away from home, but the boat was finally finished in March 2003. The new Reliance made its way back to its home port and had the first charter the next morning.
A lot of friends have been made through the years on these boats along with many memories and great stories. We hope to continue this for years to come.
John Canning III
John Canning III was born and raised in Hatteras, NC. He's a 5th generation fishermen and has been offshore fishing since he was 3 years old. As the son of the captain, John and his dad have been a team aboard the Reliance for 5 years. John enjoys fishing with all levels of anglers and is dedicated to making your offshore fishing experience the best it can be.